19 East Avenue
Owego, NY 13827
Store Hours
Monday - Friday 9:00am - 5:00pm
Saturday - Closed
Sunday - Closed
Contact Us
Phone: 607-725-0036
Amazing Portable Toilets has the largest selection of models, colors and options in the Southern Tier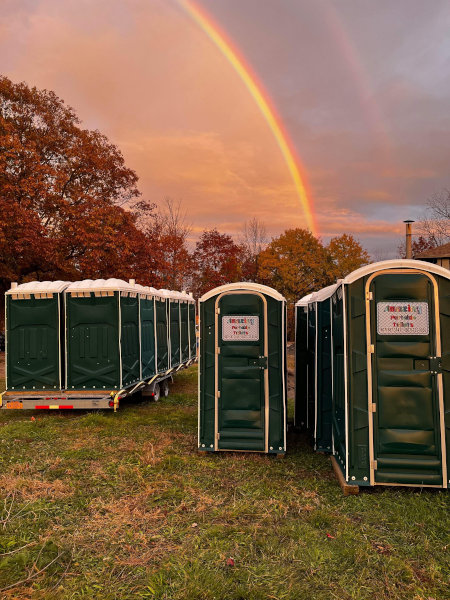 Experience the AMAZING difference!!
Check out our 1st class Polyjohn portable toilets at golf courses, ball parks, community events, and all Vestal Parks!
PolyJohn's Fleet is the premier model in the industry, engineered specifically with the satisfaction of high-end users in mind and our units have 24 percent more interior floor space than other units in its class.
Foremost, it's a must for occasions looking to add a touch of class. The efficient use of a corner tank allows for the Fleet to offer more amenities, including sink and non-splash urinal. Users at other types of events will benefit from the design as well. For example, the Fleet offers more space for parents with children, more room for construction workers with bulky or winter gear.
We offer six colors in the Fleet Series:
White

Yellow

Blue

Pink

Purple

Orange


Each color is available with or without the built-in sink.
Persons with a physical disability or mobility impairment, especially wheelchairs users, can rely on the PolyJohn Comfort XL® portable restroom for safe, comfortable, convenient sanitation. At today's private and public events, formal or informal, wedding, concert, fair, festival or party, wheelchair accessible toilets aren't just extras, they are essential.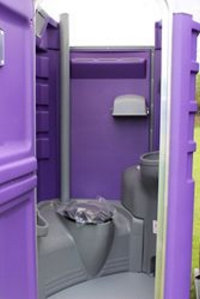 In fact, every end-user who requires greater space will appreciate the accessibility and ease-of-use features that define the Comfort XL's generous design:
More than 16 square feet of open interior floor space
Oversized, self-closing door
Roll-in ground level floor access
Interior handrails
Moved easily by one person, the Comfort XL® is our most portable large restroom. Add a number of deluxe amenities, and match the XL with PolyJohn sinks and sanitizing stations, also accessible to persons with disabilities, for comprehensive, worry-free sanitation service.
Contact Amazing Portable Toilets for:
Family Reunions
Community Events
Cook-outs
Yard Sales
Sporting Events
Wedding Receptions
College and High School Graduations
Private Parties
Golf Tournaments
Musical Events
Construction Sites
New Home Constructions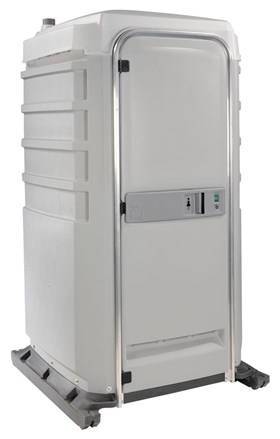 Portable Toilet Details
We offer two Polyjohn portable toilet models. The Fleet unit and the Comfort XL® - Wheelchair Accessible Unit.
Fleet Restroom Features Include:

Maximum ventilation
Spacious design
Anti-slip floor surface
Occupancy signal latch
Two tissue rolls
Sanitary seat deck and floor design
Translucent roof for better lighting
Corner tank
Non-splash urinal

Optional features:

Instant antiseptic hand cleanser and foam
Freshwater sink

Advantages over other units:

Premium unit offers 24% more interior floor space than other units in its class
Corner tank allows for most efficient use of interior space
Easy-to-clean with sleek interior and exterior surfaces
Fleet range includes Static Model, Recirculating Flush, Fresh Water Flush, and Mains varieties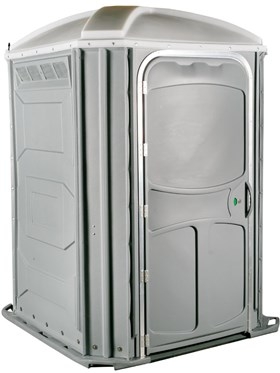 The Comfort XL Restroom Features Include:

All new door design that features:

Indent on top of door allows for the addition of a Ryobi soft door closure
New rotary latch makes it easier for the disabled to use, and easier to spot if the unit shows that it's locked, but has no occupant.
Smaller gap on bottom than old door. (More privacy, less debris blowing in unit)
Hinges are now on the same side as all other units so door opening is easier to service, and to set up rows of units for customers.
More molded in ribs for extra strength
TLighter door, minimizes the stress on the jamb, and reduces the chances for door sag. Also makes the whole unit lighter.

Barrier-free door sill - Extra wide door fits all wheelchairs
Spacious interior for wheelchair maneuverability
Handrail supports for assisted mobility
Privacy latch
Occupancy indicator
Roll-in, ground level floor access

Optional features may include:

Instant antiseptic hand cleanser and foam

Advantages over other units:

Take your service to the next level - offer customers a wheel chair accessible option, or just an "Extra Large" unit that gives guests more space.
Wheelchair accessible entryway, self-closing door, spacious cabana, and interior grab rails make this unit suitable for special needs users.
Extra-large size offers more than 16 square-feet (2,318 square inches) of open interior floor space.
Despite large size, unit can be moved easily by one person.
Below are some links to videos you may find usefull while trying to decide what you need.